Let's bring Child Labour to an end
"Out of school children constitute the workers and non-workers. In our opinion they Alltogether signify a measure of deprivation among children and can be categorised as a potential labour pool always being at the risk of entering the labour force"
-NCEUS, 2007
Introduction
Disheartening to know that India is the home to the largest number of child labourers in the world. The census found a hike in the number of child labourers from 11.28 million in 1991 to 12.59 million in 2001. M.V. Foundation in Andhra Pradesh witnessed nearly 400,000 children, mostly girls between 7 and 14 years of age, toiling for roughly14-16 hours a day in cottonseed production across the country, out of which 90% are employed in Andhra Pradesh. Nearly 40% of the child labour is engaged in a precious stone cutting sector.
The causes and nature of child labour
The factors that contribute to "hazardous" child labour includes:
Poverty and illiteracy of a child's parents,
The family's social and economic circumstances,
A lack of awareness about the harmful effects of child labour

,

Lack of access to basic and meaningful quality education and skills training,
High rates of adult unemployment and under-employment,
Rural poverty and urban migration also often expose children to being trafficked for work,
Due to conflicts, droughts and other natural disasters, and family indebtedness,
"Need" to contribute to the family income.
Often children are also bonded to labour due to their family indebtedness. Out of school children (OOSC) or those children at risk of dropping out can easily be pulled into work and a more vulnerable to exploitation. Girls, especially those from socially disadvantaged groups, are prone at a higher risk of being forced into work.
Statistical Figures
India's 2011 census proves that:
There were more than 10.2 million "economically active" children in the age group of five to 14 years comprising of 5.6 million boys and 4.5 million girls.
In rural settings the number of child labours reduced from 11 million to 8 million between 2001 and 2011 censuses, over the same tenure, the number of children working in urban settings rose from 1.3 million to 2 million.
Present scenario
                                                                                   Source: Google 
Sourced from HAQ: Centre for child rights, child labour is highest among schedules tribes, Muslims, scheduled castes and OBC children. The persistence of child labour is due to the inefficiency of the law, administrative system and because it highly benefits employers who can reduce general wage levels. A lot of growing concerns have pushed children out of school and into employment such as forced displacement due to development projects, Special Economic Zones, loss of jobs of parents in a slowdown, farmers' suicide, armed conflict and high costs of health care. Girl children are often used in domestic labour within their own homes. There is a lack of political will to actually view the complete ban on child labour.
Bonded child labour is a hidden phenomenon as most of them are witnessed in the informal sector. Bonded labour is categorised as the employment of a person against a loan or debt or a social obligation by the family of the child or the family as a whole. It is a kind of slavery. Children who are bonded along with their family or inherit a debt from their parents are often found in the agricultural sector or assisting their families in brick kilns, and stone quarries. Individual pledging of children is a growing occurrence that usually resulting in trafficking of children to urban areas for employment and has children working in small production houses versus factories. Bonded labourers in India are mostly migrant workers, which reveals them more to exploitation. Moreover, they predominantly come from low caste groups such as Dalits or marginalised tribal groups. Bonded child labourers are prone to very high risk for physical and sexual abuse and neglect sometimes leading to death. They often are psychologically and mentally disturbed and have not learned many social skills or survival skills.
                 Source: Google
In 2000 the ILO estimated that 5.5 million children have been forced into labour in Asia, while the Bonded Labour Liberation Front placed 10 million bonded children in India alone. In 1998 the government of India labeled bonded child labour as a marginal problem with only approximately 3000 cases. A survey in Tamil Nadu in 1995 found that 125,000 bonded child labourers are in the state alone.
Child bonded labour in India is predominantly in the agricultural sector but has in recent times been shifting to other sectors as well like:
Beedi-rolling
Brick Kilns
Carpet weaving
Commercial sexual exploitation
Construction
Fireworks and matches factories
Hotels
Hybrid cottonseed production
Leather
Mines
Quarries
Silk
Synthetic gems

Source: Google
Challenges to end child labour
Child labour is not constant. It takes many forms depending on the basis of work that children are made to do, the age and sex of the child and whether they work independently or with families. Due to this complex nature of child labour, there is no strategy that can be used to eliminate it.
Tackling child labour requires long-term co-ordinated action which involves many stakeholders and the government. This includes CSR initiatives, educational institutions, mass media, NGOs and community-based organizations as well as trade unions. It is important that the attitudes and mindsets of people are changed to rather employ adults and allow all children to go to school and have the chance to learn, play and socialize.
Education is a key to prevent child labour and has been one of the most successful methods to reduce child workers in India. This involves expanding education access to schooling, improving the quality and relevance of education, addressing violence in schools, providing relevant vocational training and using existing systems to ensure child workers return to school.
Child Labour (Prohibition and Regulation) Act (1986), "to strictly prohibit the engagement of children in certain employments and to regulate the conditions of work of children in certain other employment" (preamble of the CLPR Act). However, it excludes a section of toiling children in the unorganized sectors including agriculture, as well as household work.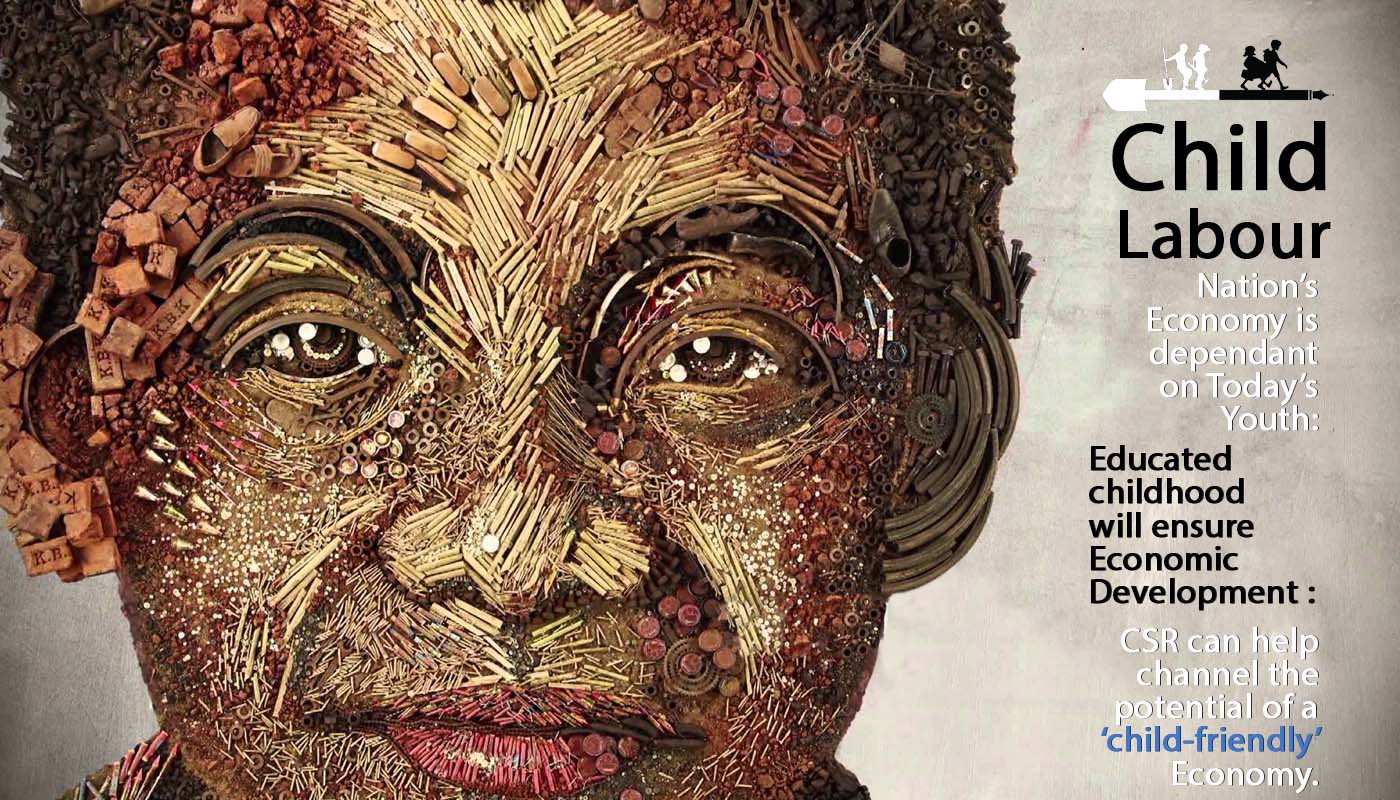 Source: Jnicsrtimes.com
Indian legislation protection
The Child Labour Prohibition Act 1986 bans the employment of children below the age of 14 in many professions, such as domestic labour, and in the hospitality trade for example in roadside dhabas (restaurants), restaurants, hotels, motels, and spas. It does not ban child labour in agriculture.
Whoever employs a child or permits a child to work is punishable with the subject to imprisonment from three months to one year or with fine no less than INR 10,000–20,000 rupees or with both.
Pawan Drishti Orphanage home in Sikkim
We provide due care with the life of the helpless and destitute and orphan children in the society and even those kids who are neglected by the family and did not get proper care due to poverty.
We make sure that a sound and friendly environment for the poor, helpless and destitute girl child towards achieving a promising peaceful condition for them fostering their physical, mental, social and spiritual development and well being prevails. We ensure that children in the orphanage get full access to education so that their future becomes secure ultimately.
Child labor and poverty are inevitably bound together and if you continue to use the labor of children as the treatment for the social disease of poverty, you will have both poverty and child labor to the end of time.
Grace Abbott
Source: Google
It is not only Ngo's business but must be everyone's business to eradicate child labour out from our country if we want to see our nation progressing towards success and happiness. Corporate sector must wake up as this is the need of the Hour that CSR initiative should come into the picture to rescue young children who are exploited by the hands of few affluent class. It's the high time that we unitedly tackle this menace of Child labour. Every child has the full right to enjoy his/her childhood but they are not meant for slavery at somebody's home, factory or where ever. Having said that, you can also donate for our initiative also so that we are better able to raise the children by providing them access to every necessity in their life. It's solely our responsibility to bring positivity and happiness in their life.
Donating for their future is a step towards ensuring a better future.
DONATE NOW
Please do donate, share the same as much you can and do your bit towards this initiative.